Let's Move Fitness Studio
At Let's Move Fitness Studio, you won't be weighed, measured, or tested for fat content. But you will be encouraged, inspired, enlightened and invigorated. Along the way, you'll work out to funky dance music, hit a high on the mini-trampoline, power-walk up beautiful Skinner Butte, or exercise in a private pool under the hot summer sun.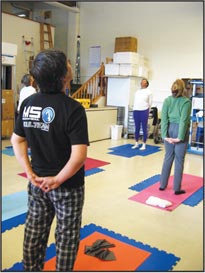 You'll also have the chance to tone your body with weight training and learn more about how to get rid of muscular (and mental) tension by participating in stretch/yoga classes or learning the Alexander Technique
Denise Thomas-Morrow, founder of Let's Move, offers a holistic approach to fitness that emphasizes whole-body conditioning and stretching. Individual and small group classes allow for plenty of personal interaction.