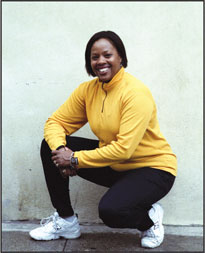 Denise Thomas-Morrow
A native of eastern Oregon, Denise graduated from the University of Oregon in 1985 with a bachelor's degree in dance. She then moved to New York, to study at the Alvin Ailey Dance School and at Steps on Broadway. Her performance was aggressive and impressive. When not dancing on stage, she was instructing aerobics at Molly Fox Studio and Crunch, another fitness studio in Manhattan. She pioneered Double Funk, a cardio intense workout set to funk music.
Her intense dedication to dance and aerobics — and the resulting stress on her body — eventually led to her revelation that it's not just important to move, but to move with awareness. She discovered the Alexander Technique and began to reeducate her body. After three years of studying the Alexander Technique while working at Crunch, she opened her own business.
She is an active participant in medical studies examining the impact of movement and stretching on people with chronic illnesses. Her interests include youth fitness, developing recreational to professional athletes, workers in offices and production facilities, and seniors with movement limitations.
Her goal: To help people find a balanced path to health and happiness through a variety of physical activities and to educate them on staying fit without injury.