Videos
Invite Denise to your space for a directed, motivated workout session with the new Let's Move DVD's and digital downloads! Listen to Denise as she directs your movements to stretch and work with natural resistance to strengthen your body. All videos explain what movements and exercises are taking place and encourages you to be patient and persistent. The Alexander Technique of body alignment is the foundation for these unique workouts.
The classes are intended for weekly use — one session per week. Intensity can increase by increasing the frequency of uses per week. All videos are available on DVD and digital download* for computers and portable devices. Be sure to select your preferred format before checkout. If you choose the digital download format, a link for download will be sent directly to your email for instant access!
*May require the download of QuickTime or iTunes
Please choose from the following videos
Alignment and Stretching – Alexander Technique and Yoga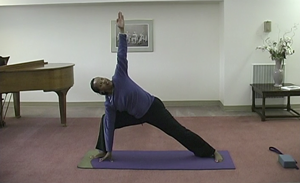 One of Let's Move's most popular offerings is now offered on video! The Alexander Technique focuses on increasing our awareness of the connection between head, neck and spine. By releasing unnecessary tension, we can improve our freedom of movement as well as our balance and coordination. Alexander Technique is useful for performers, athletes, office workers, and anyone who would like to improve the way they sit and move. This 35+ minute session based on the Kripalu style of yoga is designed to work the entire body with focus on breathing, balance and relaxation. Enjoy the benefits of the Alexander Technique in your home today!